Our Selected Projects
We have a breadth of experience that only comes with years of hands-on work. Our family has been in the plumbing business for over 60 years in Sonoma County. Here is a selection of projects we're proud of.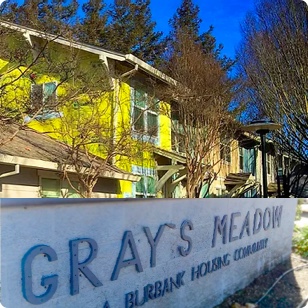 Burbank Housing: "Greening" Gray's Meadows
We are working with Burbank Housing to update over 50 homes in the Gray's Meadow Santa Rosa affordable housing development. We are replacing outdated water heaters with efficient Baxi duo tec 40 combi boilers that not only provide domestic hot water but serve to heat the homes using hydronic radiant heating systems. Updating the new Baxi tankless boilers will not only save energy and heating costs for the residents but will "green" the environment as well. The efficiency ratings went from 65% to 99%. We are proud to be part of the Burbank housing's team of preferred contractors.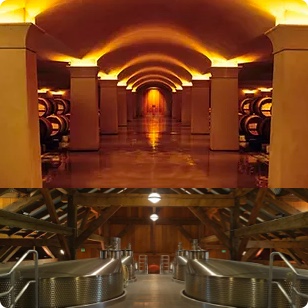 Nickel & Nickel Winery
At Nickel Nickel winery over 100 miles of hydronic tubing were installed in the slab floors for hydronic radiant cooling in the wine caves. The system works fantastic with zero noise inside the cave by eliminating the need for noisy fans. Radiant cooling is quiet, efficient and comfortable, an elegant solution for temperature management in sensitive environments.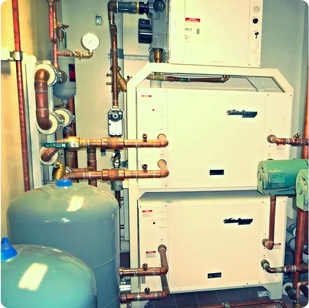 Odell Geothermal System
This system uses geothermal energy to heat and cool a large custom residence using hydronic radiant systems. Tom's grandfather would have been very proud of the copper piping in this very technical installation. This project is a marriage between traditional plumbing craftsmanship and contemporary "green" technology.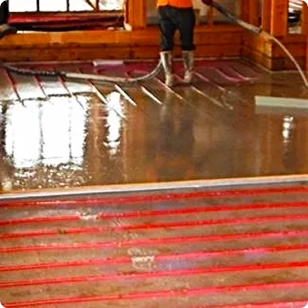 Residential Hydronic Radiant Heating
We designed and installed this radiant hydronic heating system with 1½" of gypcrete over the concrete slab as a thermal mass.The siting of the house subjected some areas to excessive solar heat gain. We solved the problem by installing sensors placed in sensitive areas to regulate and control the heated water flow thus moderating and keeping the heating even throughout the entire home while maximizing efficiency. It takes a combination of technical expertise, experience and creative thinking to build the most efficient radiant systems. There is usually no turnkey solution and each project requires tailored solutions. We personally install all the systems we design and take hydronic radiant projects from start to finish. We stand behind our radiant hydronic heating and cooling systems to assure they meet the needs of each client.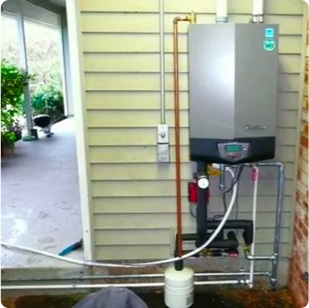 Radiant RetroFit Heating System
We can install a radiant hydronic heating system in any home. In this 35 year-old home we installed a Lockinvar Knight boiler with Buderus radiators. The system was piped the way my Grandfather would have done it. We used mono flow piping to supply the system which works great with this application.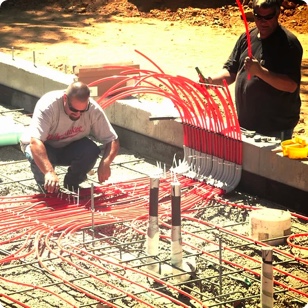 New Construction Radiant Hydronic
It is always good to be involved from the ground up. We can assist architects and builders spec the best technologies and the most up-to-date, efficient materials and fittings. Here we are installing hyrdronic tubing attached to the rebar grid creating multiple heating circuits to be connected to a custom manifold prior to pouring the concrete slab. This system is extremely efficient as the heated water is circulated through the various zones in the thermal mass of the slab floor corresponding to the size, location and intended use of each room to be framed above. Each hydronic zone can then be controlled indepently saving energy and maximizing comfort and efficiency.
Client Testimonials
"It's the little things - and hot water!- that count. When I described the problem we were having with our hot water and low water pressure, Tom knew exactly what I was talking about, diagnosed the problem, and gave us a solution that worked wonders. We thought we would need to replace our sixty+ year old pipes and, since we can't afford to do that anytime soon, we were feeling very discouraged. Now we have hot, running water - I will NOT take this for granted :) Tom also recommended and installed a thermostat that will save us effort and energy in the future. We couldn't be more pleased to work with such great people. Thank you, Tom and Laurie Schefer! I will certainly recommend you to friends and family :)"
Chrissy N – Santa Rosa, Ca.
"I cold-called TSP Plumbing from the list on Yelp! Tom went way above and beyond in solving our problem with our radiant floor heating and also an improperly installed tankless water heater. We're so happy to have found the knowledgeable and professional plumber we can keep on our service providers list and also recommend to friends.
Fay G. – Kenwood, Ca.
"Tom really understands the details with all types of hydronic heating systems as well as general plumbing, Tom has been great to work with." Service Category: Hydronic heatingYear first hired: 2010 (hired more than once)Top Qualities: Great Results, Personable, Expert
John Rising – General Contractor